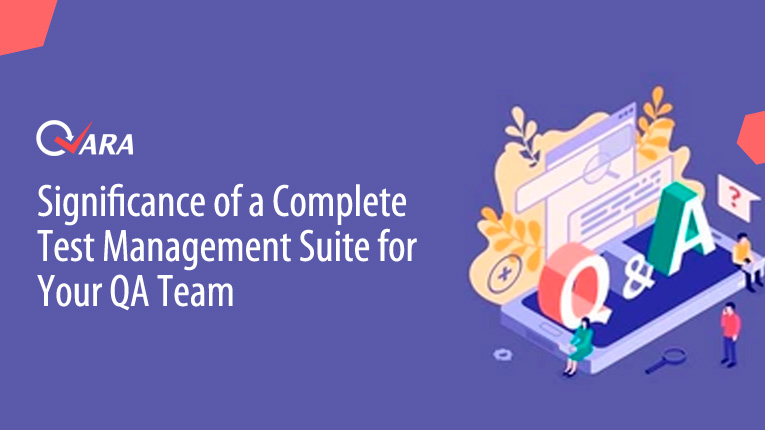 Why Your QA Team Needs a Complete Test Management Suite Today
Author:

QARA Admin

Added:

22 Sep 2021
Today we are always on the hunt for the next awesome application and not just that, we always look forward to the next cool update on the apps that already have a place on our smartphones. This not just applies to mobile applications, but holds true for web applications and desktop applications as well. To our pleasant surprise, we have new apps with new features coming up everyday and what more could we ask for? However, when we look at it from the perspective of the people who work towards building these applications, what we see is stiff competition. Yes, today the software application market is one of the most competitive spaces and there are millions of apps fighting for the users' attention.
This scenario has shifted the focus on application testing like never before. After all, application developers simply cannot afford to release a product with even the smallest bug, because there is simply no "second chance". However, the job of the QA team has never been easy and comes with its own set of challenges.
Challenges Faced by QA Professionals Today
Lack of communication as QA professionals often have no clear ways to communicate their findings to the concerned teams.
Unstable test environments resulting in disruption of the overall release process.
Last minute changes in the project requirements which calls for a complete redo of the entire scope of testing.
Complex learning curve when switching from manual to test automation.
Very little time to test the complete application thoroughly, which results in reduced test coverage.
Inadequate collaboration between testers and developers which results in gaps in testing.
Lack of a clear idea about the exact client expectations on the outcome of a project.
Lack of adequate documented insights on test performance that creates confusion when things don't turn up as expected.
Need for skilled programmers within the team for writing complex test scripts and executing them successfully.
How a Complete Test Management Suite Makes a Difference
There are test automation tools and then there are complete test management suites. The QA team of today needs a complete test management platform in order to overcome the common testing challenges and to ensure better test performance and higher test efficiency. QARA Enterprise is an example of a complete test management suite that offers everything that a QA professional would need in order to accomplish their testing goals and boost test performance. Here we shall look at the multiple features that the QARA Enterprise Test Management tool has to offer.
1] Rapid Test Automation Tool
The primary component of the QARA Test Management Suite is the QARA Test Automation platform. This is a new age test automation tool that automates the execution of test cases, thus saving time of the QA team as well as helping them overcome the challenges of manual testing. It's an end-to-end test automation solution that includes all functionalities such as test design, management, planning, execution, and reporting. However, the fact that QARA Test is a zero-coding test automation tool, offers a short learning curve for the manual testing experts to switch to automation seamlessly. Given below are the key features of the platform.
Its cross-browser, cross-platform support ensures consistent performance across many browsers and platforms.
Zero coding platform means QA professionals are not required to write lines and lines of code to execute test cases.
Record n Playback feature to help the QA professionals to say goodbye to the time consuming and tiring processes of manually writing test scripts multiple times.
Detailed Reporting feature which is an essential part of Test Case Management and helps testers understand at which step the test has failed, possible root causes, and the percentage of automation, etc.
Integration with JIRA, most popular bug tracking and test management tools to allow testers to store all the test artefacts and gives them the flexibility to manage projects from the test management User Interface of QARA Enterprise.
Parallel or grid execution to run multiple test cases simultaneously or at the same time on a single platform.
Parametrization of test cases to eliminate the need for testers to spend time and effort accumulating data sets for executing test cases using the same steps.
2] Jira Add-On for Test Management
We all know that Jira by Atlassian is the most popular platform used by developers and QA professionals for project management. So, in order to make it easy for the QA professionals, the QARA Enterprise Test Management suite brings you the QARA for Jira (QARAJ) add-on that integrates the test management platform with Jira. This way, you can access the information in Jira within the QARA environment. The QARAJ add-on is available for download from the Atlassian marketplace.
Explore more about the QARAJ add-on here: QARAJ - TEST MANAGEMENT JIRA
3] Jira Add-On for Time Management
In addition to the Jira add-on for test management, the QARA Enterprise test management suite brings another Jira add-on that adds time management capabilities to the Jira platform. Quartz – Jira Time Tracking is an advanced time-tracking solution that enhances Jira's capabilities by providing powerful time management features. Powerful time reporting, painless time entry, custom attributes, an approval process, and more are all supported by the add-on. It is available for download on the Atlassian Marketplace.
Explore more about the Quartz add-on here: QUARTZ
4] Chrome Extension for Visual Feedback
The QARA Enterprise test management suite offers a Chrome extension that allows easy sharing of visual feedback in Jira. Qapture for Jira is a simple collaborative testing add-on for Jira that allows you to capture, annotate, and share visual feedback. It enables teams to interact and provide visual feedback straight to Jira from their Chrome browser without having to navigate to the Jira interface. You can use the add-on to take screenshots, annotate them, and share them right away. It also makes certain that the feedback report is prioritized and addressed.
Explore more about the Qapture extension here: QAPTURE
Want to witness what makes QARA Enterprise the complete test management platform your QA team will ever need? Visit www.qaratest.com or drop an email on info@qaratest.com and our team will get in touch with you.
Read about implementing test automation in your enterprise: 7 Steps to Introduce Automation Testing in your Organization