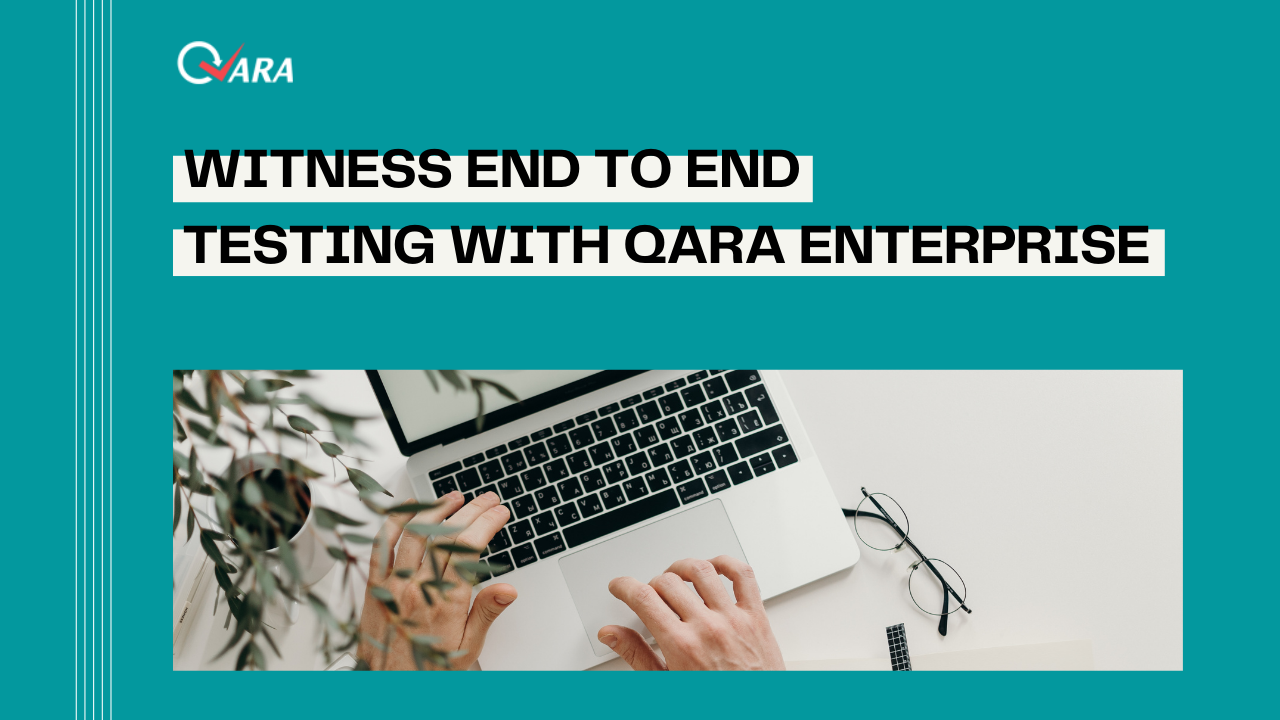 End to End Testing with QARA Enterprise Test Automation Tool
Author:

QARA Admin

Added:

18 Nov 2020
End to end testing is a method of software testing that involves testing the flow of an application from the start to the end, using the most common scenarios, to ensure that applications work as expected throughout the entire workflow. End to end testing closely resembles the behaviour of the real user interacting with the application. This is a form of testing that goes beyond the behaviour of the application under Dev environment, to ensure it works just as fine when integrated with the external interface.
End to end testing is important because applications today are all about integrations with multiple environments. This makes the flow of the application more complex than what it used to be for simpler applications that were developed a few years ago.
Since end to end testing involves a thorough testing of the application in and out, it calls for extensive testing. Add to it the fact that software applications are developed and tested in an Agile environment, and you have a scenario whereby there is the need for an advanced test automation tool to execute the test cases within the stipulated deadline.
End to End Testing with QARA Enterprise
QARA Enterprise is a test automation tool that is designed for complete test management. A platform like this can help QA teams perform all types of testing with maximum efficiency. QARA Enterprise is powered by artificial intelligence (AI) for intelligent testing that simulates user behaviour for the most accurate test execution. The following features of QARA Enterprise help the QA teams perform end to end testing with ease.
1] Parametrization
The parametrization feature is most suited for projects that require a large number of cases tested using the same steps. Testers may no longer need to spend time and effort accumulating data sets for executing such test cases. The values saved in QARA Enterprise's global and local test data can be used to run test cases multiple times, without duplication of efforts.
2] Test Case Recording
This is a very useful feature offered by QARA Enterprise that allows QA teams to record test cases once executed, through an extension on the Chrome browser. These recorded test cases can later be run on any Browser to save the time of writing test cases again and again.
When it comes to end to end testing, this feature can help QA professionals save a lot of time.
3] Support for Multiple Browsers and Platforms
In today's mobile environment, it is essential that businesses are reachable across all browsers, platforms, and devices. Complex test automation projects thus demand testing support for a large number of browsers and platforms. Designed with an aim to minimize testing efforts, QARA Enterprise's cross-browser, cross-platform testing capability helps widen the test automation coverage.
This feature ensures the end to end testing for the application can be executed on multiple browsers and platforms.
4] Detailed Reporting
Reporting is an essential part of Test Case Management. It helps testers understand at which step the test has failed, possible root causes, and the percentage of automation, etc. The easy-to-understand, colourful graphical representation provided by QARA Enterprise helps analyze the data effortlessly. This helps the QA team be in perspective even when there is a lot of testing being carried out.
QARA Enterprise is the complete test management suite that QA teams need in order to execute all forms of testing successfully. What's more, the QARA Enterprise Suite also has other products for the convenience of the QA team.
Read More on Implementing Rapid Test Automation with QARA Enterprise